Thanks to my wonderfully awesome friend Ayrelle, my Alice doll is FINALLY done after being 3 years in the making -_- ....I'm lazy.
She is not a real Blythe doll, but a "Blybe doll". Around 3 years ago, these fakers started making their way all over the internet and ebay trying to pass for real Blythe dolls. I of course could tell the many things different about these girls, but I still believed they were adorable. Because I am so cheap and doing this much customization to a real Blythe literally gave me a minor heart attack, I settled for this girl. With the intention of making her my little vampire girl Alice Cullen, I wigged her, spray matted her face, then glitter sprayed her face, carved out her nose to be more Ashley Greene-esque, carved out her lips and painted them a red-orange, carved out her eye-sockets and gave them a dramatic black winged look, painted her eyelids with a golden to black gradient covered in glitter, gave her new eyelashes, placed in new eyechips (Black, red, and 2 golds), and gave her a new body. That's the part that left me stumped.
This girl has been almost finished for nearly the whole 3 years. The only thing standing in my way was her new Pure Neemo Body. The body she came with was something like a dollar store "barbie". Awwwful. I could see it fall apart in a day. Problem was, that after I bought her a new body, I had major issues keeping her head on top. So in any pic you have seen of her, her head is literally sitting on top of the body without any attachment. 
Thankfully my awesome friend Ayrelle can fix anything and has a special talent with Blythe customization, so she successfully attached the head to the body for me. Now she's done and ready to show off!
I also customized her pull chords with a "blood type A" cell phone charm and a mini wolf. Her name is spelled out in charms with black and white beads. 
Her dress was also handmade by Ayrelle for my wedding back in March 2010! She made two, one for each of our Blythes to wear as "bridesmaids". They were modeled after the Black Betsey Johnson tea party dresses my bridesmaids wore.
Me and Ayrelle with our dollies...
Her hands can get a tad bit creepy sometimes....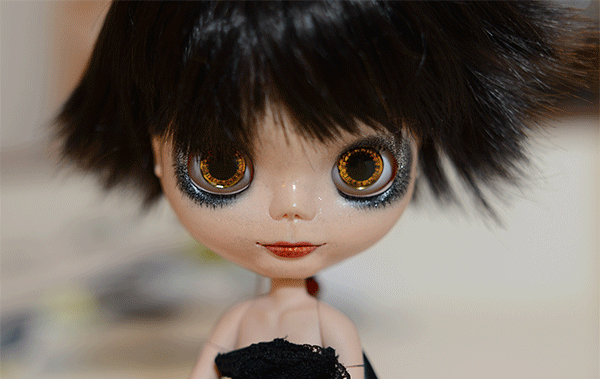 But I love her. Thanks for helping me complete her Ayrelle! She's exactly the ratio of creepy to cute I wanted in my little Twilight inspired Blythey :)